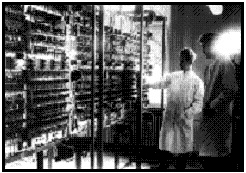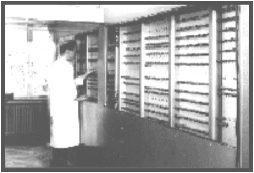 Photo: DASK was a first generation computer from the fifties developed at "Regnecentralen" and was programmed in Algol. The operation system was developed by Jørn Jensen and was a rather advanced device. This operation system was later used in the development of different control programs.
http://www.datamuseum.dk/site_dk/rc/krarup/
THE BEGINNING
In the 1950´s DASK became the inspiration for Professor Povl Riis to develop a prospective database register of Crohns Disease (CD) and Ulcerative Colitis (UC). In 1958 Professor Povl Riis and some of his colleagues at Glostrup Hospital began the collection of data from patients with UC and CD and all data were achived in different paper forms. In 1972 the first controlling system, SCIBAS, was developed for the IBD database and the easy and continually registrations of patients´ data was a reality.
In 2000 the triad of gastroenterologists Pia Munkholm, Poul Schlichting and Flemming Moesgaard gathered to create a "scanmodel" for the data registration. The surgeon Flemming Moesgaard began the development if this "scanmodel" using the program Teleform v7 from Document House. It was now possible to make an easy and fast registration of all patient data and it was kept in what was named the Danish Crohn Colitis Database (DCCD). All scanned data were further saved in the programme of statistics, SPSS.
In 2001 a committee including 13 doctors from DGS was set up in order to define and refine the content of DCCD and in 2001 the pilot phase began with the registration of data from IBD patients from Hvidovre hospital. In April 2003 data from more than 1100 IBD patients were registered in DCCD and the nationalisation of DCCD could begin.
HD­Support Aps, a company from Faaborg, constructed the Web­hotel and finally hospitals and departments all over the country could do the IBD patients´ data registration and a remarkable amount of safe data on IBD patients could now be a used in medical research.
The effort from a lot of people has resolved in a high standard in the national research in IBD and regarding epidemiological aspects Denmark has got a leading position in the world. The long tradition with this database and the continuous upgrade of DCCD has provided Denmark with one of the oldest collected, prospective cohorts.
In the future the goal of DCCD will be a more national participation allowing as many as possible to obtain the benefit from the collected data.